Optimal Viewing | Selecting the Right TV Mount
Different rooms and viewing scenarios require different types of TV mounts.
Fixed Mount
Best for eye-level installations where no movement is needed. This option provides a sleek, minimalistic look.
Tilt Mount
Ideal for installations above the optimal viewing level or sunny rooms prone to glare during specific times of the day.

Tilt mounts allow vertical angle adjustment, offering the perfect solution for managing reflections and maintaining optimal picture quality no matter the time.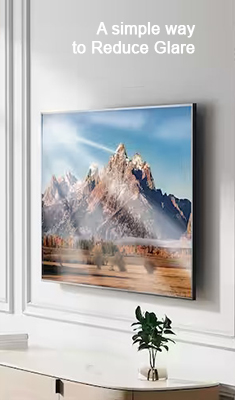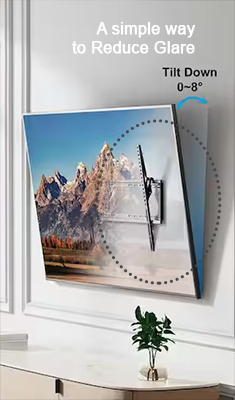 Articulating Mount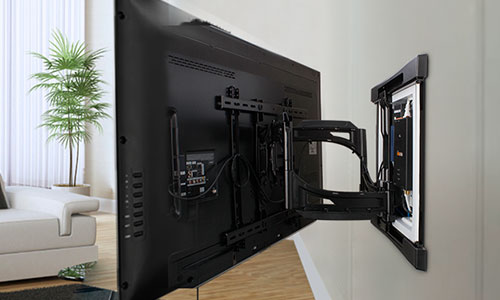 It offers the most flexibility with extendable arms that can tilt, swivel, and pivot, making it perfect for rooms with multiple viewing spots or TVs that need to be tucked away when not in use, such as in a cabinet or specialized furniture. It's also perfect for corner installations or areas where light reflections vary throughout the day.

For a neater, more integrated finish, consider adding an in-wall enclosure. This feature neatly recesses power bricks and small media sources, like Cable TV or streaming boxes, contributing to a more polished, flush look for your entertainment space.
Ceiling Mount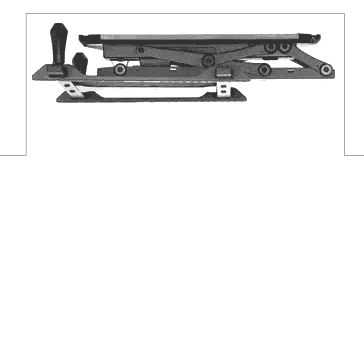 Versatility defines the Ceiling Mount, liberating your TV viewing experience from the constraints of wall space. When not in use, the TV can be neatly retracted towards the ceiling, either flipped horizontally with the screen parallel to the floor -an option not recommended for certain TV models- or vertically slid, tucked neatly within the ceiling while facing forward.

When it's showtime, effortlessly bring down the TV to your preferred viewing height. Whether you favor the hands-on control of our manual versions or the smooth, automated convenience of our motorized options, we cater to your preferences.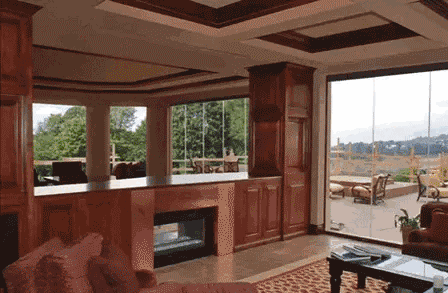 Our installation team can integrate any motorized mount's functionality into your whole-house control system. Select your media source or favorite show, and watch as your TV descends without pushing additional buttons. Switch your TV off, and it automatically retracts.

The Ceiling Mount is especially suited for multi-purpose rooms, spaces with limited wall space, or areas with unique architecture, like glass-surrounded rooms. It offers a seamless blend of aesthetics, functionality, and innovation for your viewing pleasure
Mantle Mount
Explicitly designed for over-the-mantle installations, this mount can lower the TV to a more comfortable viewing height and raise it back over the mantle when not.
Users can easily tilt, swivel, or pull their TV off the wall and set it to eye level using convenient handles. As with Ceiling Mounts, we also offer motorized solutions to lower and swivel the TV with one quick click in a remote or tap on a mobile app: get fluid noise-less motion from the comfort of your couch.
A Neater Look | The Magic of Cable Concealing
Exposed wires can disrupt the clean, modern aesthetic of your living space. At RMS Installs, we excel in cable concealing, ensuring all wires from your TV and connected devices are hidden from view, even through all the mount's possible movements. This doesn't just enhance the look of your TV area but helps prevent accidents caused by loose cables, creating a safer environment for children and pets.
State of the Art | Experience the Samsung Frame TV
We recommend the Samsung Frame TV for those who prefer a genuinely flush installation. When professionally mounted, it sits flush against the wall, creating an artful seamless integration that looks just like a picture frame.

Enjoy more screen visibility with no light reflection, night or day. Anti-Reflection technology and the Matte Display Film premium matte finish limit light distraction on your screen by reducing the effects of glare.

This TV can display works of art when you're not watching your favorite shows, making it a stylish addition to your home decor while serving a dual purpose.

Customize The Frame with a stylish bezel to fit your décor, choosing from modern or beveled finishes. For those who love aesthetics as much as functionality, the Samsung Frame TV is the perfect choice.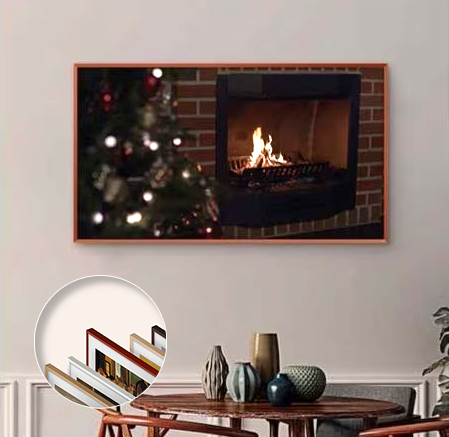 Why Choose RMS Installs?
With RMS Installs, you're not just choosing a service - you're choosing a dedicated partner committed to transforming your entertainment experience. We understand the intricacies of TV installation and the importance of a seamless setup. Here's why we stand out:
Attention to Detail: We don't just mount your TV; we ensure every aspect of the setup is perfect, from safe mounting and concealed wiring to a complete TV model setup.
Expertise: Our team is trained and experienced in handling a variety of TV models and installation scenarios. We're well-versed with different mount types and their appropriate use cases, ensuring optimal viewing every time.
Clean Installations: Our expert cable concealing not only enhances aesthetics but also promotes a safer environment in your home.
Future-Ready Solutions: We stay at the forefront of technological advancements. The Samsung Frame TV is one example of our efforts to provide solutions that blend style and functionality.
Choosing RMS Installs means choosing peace of mind, knowing that your TV installation will be handled professionally, efficiently, and with the highest regard for your satisfaction. Trust us with your TV installation needs and experience the RMS difference.